The Image Header component can be added to any subpage. This feature controls the color overlay of the page as well as the main background image of the page. It is not a required feature but can be a great option to utilize if you want to quickly make a subpage more engaging and eye-catching.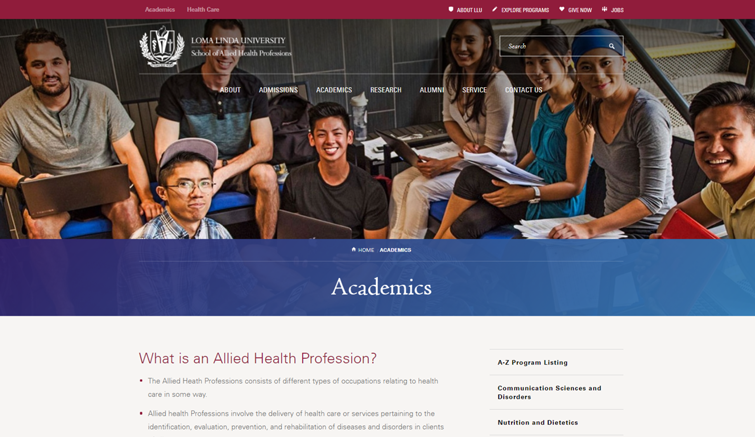 Edit View
To create this feature, first enter the edit view of the subpage you want to add it to.
Then navigate to Background Image and click the "Choose File" button. Now locate the file on your local computer and choose it. The image you choose must be at least 1280x800px.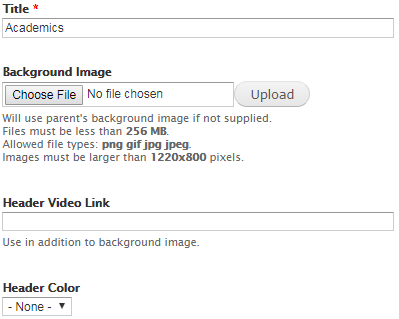 You will now see the name of the file you chose appear. Click the "Upload" button to upload your file to the site.

A preview of the image will appear. You can choose to either leave the image as is or you can manually select the crop size and focal point of the image with the crosshairs in the preview. If you want to manually select a crop of your image click the crop dropdown and choose small, medium, or large. For the size of this example we've used the large size crop.

This is an example of what the crop screen looks like. In this window you can choose the "Maximize selection" button to see what the largest dimensions of the crop will look like. To make sure the parts of the image you want displayed are shown we recommend choosing the Maximize Selection option then dragging the box over the area you want in frame. Then click the "Save" button to crop your image.
After cropping your image and selecting a focal point, this is what the edit view will look like. 

Once you've finished adding in all the content you'd like into the fields scroll to the bottom of the edit window and click the bottom-left button labeled Save.
---
Character Limits
| Text Field | Character Limit |
| --- | --- |
| Title | 40 |
| Intro | 150 |
Header Video
There is an option called "Header Video Link" that enables you to add a video to the header section. If you would like to add a video to your page please contact the Web Center for assistance as only specific videos will be suitable for this feature.
video guidelines
10 to 30 seconds long
16:9 aspect ratio
no audio
focal point in the center
no text or graphics
hosted on YouTube